It was a busy weekend for the family. We were spring cleaning in preparation for the lunar New Year which is only 2 weeks away and I nearly forgot it's lunchtime until I saw the clock pointing to 12:30.. Oops.
So I quickly searched my fridge for what to cook and found a packet of streaky bacon and some cooked spaghetti, left over from the previous dinner. So, stir fried spaghetti it is. The baby Choy Sum in our garden is ready for harvest so extra green for the pasta, how convenient. :)

It's a hush hush meal but yummy none the less.

Preparation Time: 5 min
Cooking Time: 10 min
Serving for: 3-4 pax
Ingredients:
1/2 packet of spaghetti
3 eggs, beaten and flavored with some salt & pepper
2 cloves garlic, roughly chopped
1 carrot, cut into short strips
1/4 onion, roughly chopped
4 strips of streaky Bacon, cut into short strips
8 stalks of baby Choy Sum, washed and cleaned (since our homegrown baby Choy Sum
is pesticide-free, I only gave it a brief wash)
A few drops of Worcester sauce
2 table spoon of soy sauce
1 teaspoon of dark soy sauce (optional, I added it for darker color which is more appetizing. Add more or omit as you wish)
Stir Fried Spaghetti with Bacon, the oriental style
In a pot of boiling water, cook the spaghetti for 10 minutes, add some salt in the water while boiling. Once cooked, drain the excess water and set the spaghetti aside.

While the spaghetti is cooking, heat up a table spoon of olive oil and cook the egg omelet.

Roughly cut it into small pieces using the spatula then set aside.

Heat up a table spoon of olive oil on the wok and sauté the garlic till fragrance, toss in the onion and bacon strips, stir slightly then add the carrots slices. Add salt and Worcester sauce to taste.

Add 1/2 cup of water, soy sauce and dark soy sauce, mix roughly then cover the wok and let it simmer for 5 minutes.

Toss in the cooked pasta, follow by the Choy Sam and eggs. Add another 1/2 cup of water, close the lid and let the pasta simmer for another 5 minutes.

Turn off the stove, add a dash of pepper and paprika powder & mix well. Your pasta is ready to serve.
I
love mine with few drops of freshly plugged lime (yeah, another product from our garden..), but that is really not necessary. It's just me and my exotic taste bud, Big Guy & the kiddos enjoy the spaghetti just like that.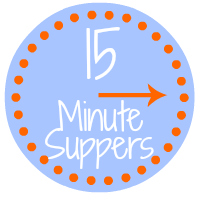 and look for the #15MinuteSuppers hashtag too!
Oriental Style Stir Fried Spaghetti with Bacon
from Food 4 Little Ones
Creamy Garlic Pasta
from Better in Bulk
Creamy Coconut Shrimp
from Around My Family Table
Quick 15 Minute Shrimp Tacos
from Jen's Journey
Shrimp Fajita Rice Bowl
from Turning the Clock Back
Pasta with Bacon and Brussels Sprouts
from Suburbia Unwrapped
Would you like to join us at #15MinuteSuppers?
We'd love to have you! Please check out the
15 Minute Suppers
website or ask to join the
Facebook group
(for bloggers) to participate on Fridays…we'd love to have you join us.