While we were doing our weekend grocery shopping, we walked past the pasta section and Little Captain saw the elbow pasta. He immediately remind me that it has been a while since I last cooked Mac 'n Cheese, so Mac 'n Cheese it is for lunch today!
Since I planned to bring them to playground for some ball games, I decided to make a quick and easy version by having all ingredient cooked in a pot (except for the sausages), but I would never cut short on nutrition so mixed veggies are must.
I love the color combination...
Little Captain and Princess C had a small bowl each.
While I love mind with chili flakes... Simply Satisfying!
The ingredients... Except the elbow pasta and green peas that are not in pic.
Preparation Time: 5 min
Cooking Time: 10 min
Serving for: 2-3 little ones

Ingredients:
1 cup elbow macaroni
1 cup broccoli cut into small chunks
1/4 cup frozen peas, defrost to room temperature
2 sausages, cut into round slices
Some fresh or dried rosemary
For Cheese Sauce
1 cup cheddar cheese, cut into cubes

The Making:

1.
Cook the macaroni, cut vegetables and peas in a pot of boiling water with a pinch of salt for about 8-10 minutes.
Drain the excess water and run the pasta under running tap water for a few seconds.
2. While pasta is boiling, heat up a tablespoon of olive oil in a pan and cook the sausage for about 5 minutes or till golden.
3. In another pot, melt the butter and add the flour on medium heat, stir constantly until the flour dissolved then add the cheese, milk and rosemary leaves. Bring it to a boil until the cheese sauce thicken.
4. Add the macaroni and vegetables into the cheese sauce, seasoned with a dash of salt and pepper. Mix well and turn off the heat.
5. When serving, drops the sausages on top. Sprinkle with more shredded cheese if you like it real cheesy.
The making in 5 simple steps.
I let little captain helped to setup the table as I cooked (his usual chore), I must said he is getting really good at it. Apart from having the cutlery placed correctly, he even prepared the sachet of chili flakes and orange juice for me and daddy, he knew i looooove spicy food, how very thoughful of him! *feeling pretty proud*
A Gentle Note...
As usual, I would remind you that if this is the first time introducing cheese to your little one, always watch out for allergy reaction such as swollen, rashes or itchiness. Besides if you are serving to toddler do use the salt sparingly as their daily sodium requirements are way lower than adults.
If you like more cheese recipe, check out
here
.
Happy cooking!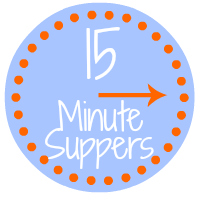 and look for the #15MinuteSuppers hashtag too
Today we are all sharing recipes that are 15 minutes or less, whether it's a smoothie, holiday dessert, or a quick snack. Having a bunch of recipes that only takes a few minutes in your recipe tool box is good thing! Need more quick 15 minute recipe ideas? Check out these other great #15MinuteSuppers!
BLOGGERS: Would you like to join us at #15MinuteSuppers?
We'd love to have you! Please check out the
15 Minute Suppers
website or ask to join the
Facebook group
(for bloggers) to participate on Fridays…we'd love to have you join us.