Big guy and I had always like brussel sprouts, it's crunchy, sweet, packed with nutrition and is low on calories (which makes it an ideal diet food!); on the other hand, the kiddos are attracted to its cute outlook which is like a mini cabbage. So it's one of a favorite dish on our dining table. Instead of cooking it plain as usual, I decided to spice up a bit by adding some hams and melon seed this time.
And it turned out pretty good...
If you are having a party, serve this as warm salad dish instead. ;)
Best of all, it takes no more than 15 minutes to get it ready on the dinning table!

Preparation Time: 5 min
Cooking Time: 8 min
Serving for: 2-3 pax

Ingredients:
• 20 brussel sprouts, wash, remove ends and cut in half
• 60g hams, thinly sliced (add more if you like)
• 1 tablespoon of melon seed / pumpkin seed
• few drops of sesame oil
• a dash of worchester sauce
• salt & pepper


The Making:
1. Heat up a tablespoon of olive oil in the pan, toss in the hams and stir fry for about 2 minutes till they turn brown.

2. Scoop the hams aside, then place the brussel sprouts in the pan, make sure the flat side touches the pan (add some olive oil if the pan is too dry). Let the sprouts cook on high heat for about 2 minutes.

3. Add 2 table spoons of boiled water (cooled to room temperature) into the hot pan. while the water shimmers, add the seasoning, mix well, and toss in the cooked hams and melon seeds, roughly mix.
4. Let it cook for another 2 minutes with the lid on until all water evaporated, then turn off the heat.
That's it, your meal is ready! Serve it with with warm rice and it's one healthy meal, or you may just eat it as-is like a warm salad.
I love cooking the sprouts this way as they retain the lovely green and crunchiness. Addition of hams and melon seeds give a more interesting twist to the taste and texture. If you like your sprouts softer, just extend the cooking time to another 5 minutes or more.
What's your favorite way of cooking the brussel sprouts? :)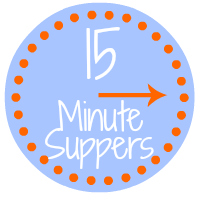 This week we are sharing 15 Minute recipes to get you through your New Year's Eve parties. I think you will love these awesome recipes that are party worthy, but that will keep you hangin' with your guests instead of being a slave in the kitchen! Happy New Year!
15 Minute Appetizers
BBQ Bacon Meatball Skewers
from Around My Family Table
Easy Party Appetizer - Lit'l Sweet BBQ Little Smokie
s from Just 2 Sisters
Brussel Sprouts & Hams
from Food 4 Little Ones
15 Minute Snacking
Ooey Gooey Holiday Chex Mix
from Better in Bulk
15 Minute Breakfast
Paleo Banana Pancakes with Meyer Lemon Butter
from Confessions of an Overworked Mom
If you are a blogger and you'd like more info, please check out the
15 Minute Suppers
website or ask to join the
Facebook group
to participate on Fridays…we'd love to have you join us.