Little one and I were busy giving our car a thorough wash earlier that I nearly forgot it was almost lunch time. Good Lord that I remember to thaw the frozen minced meat before we began washing so I was able to cook up something decent. There was half a packet of leftover shell pasta, so shell pasta it is for lunch.
I have always like Shell pasta for its shape as it holds the ingredients in the pocket which makes it tastes rich and juicy; it's like hidden treasure in the shell.
This is a simple yet satisfying dish, ideal for busy day such as today.

Preparation Time: 5 min
Cooking Time: 10 min
Serving for: 3-4 little ones

Ingredients:
1/2 packet of dried shell pasta (200gm)
A palmful of minced meat (approx. 100gm)
1/4 cup of onion, finely chopped
2 clove garlic, roughly chopped
1 table spoon of soya sauce
Few leaves of fresh / dried rosemary
1/2 cup of Shredded cheddar cheese

The Making:

1. Boil the pasta in a pot of hot water based on indicated time (approximate 10 minutes), add a pinch of salt. Once cooked, drain the excess water and run the pasta under tab water for a few seconds, then set aside.

2. While the pasta was boiling, heat up a spoon of olive oil in the pan, sauté the garlic till fragrance, then toss in the onion, follow by the minced meat and all the remaining ingredients; stir well to mix.
3. Let the minced meat cook for about 5 minutes (till it turns brown), then add the cooked shell pasta. Let it simmer for another 2-3 minutes with lid closed so the pasta will absorbed the sauce thoroughly.

4. Serve the pasta in a dish, add the shredded cheddar cheese on top (it will melts slowly) and decorate with some fresh rosemary leaves.
Just that simple... Bon appetite!
Tips:
• add a spoonful of butter into the pasta if you like it really creamy, but I am happy with mine as-is.
• you may add some bacon bits for the added flavor.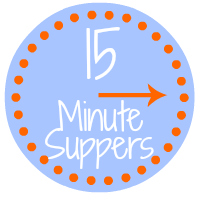 Check out these scrumptious Thanksgiving leftovers and they only take 15 minutes:
If you are a blogger and you'd like more info, please check out the
15 Minute Suppers
website or ask to join the
Facebook group
to participate on Fridays…we'd love to have you join us.